We are keen to ensure that your puppy has nothing but good experiences with us. The younger and more often they come for a groom, the more it will be just a part of life for them so they won't get scared, but will enjoy it. We can offer you our
Initiation
groom with discounted grooms until 6 months old, or our new all inclusive
Puppy Package
.
Please contact us to book or to discuss the options if you simply can't decide what would be best for your puppy, and check out our fab photos in our Gallery.
The Initiation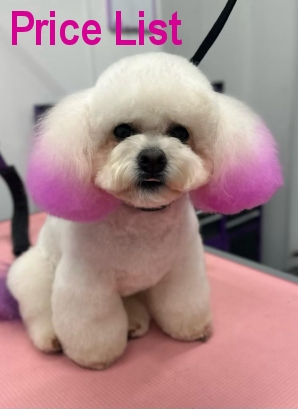 Puppies don't always have a coat that needs to be groomed. However, if grooming is going to be something they are going to have to go through when they are older, it is best to get them used to it as young as possible so they relate to grooming as a positive experience.
Patsy poodle loved her puppy package, she had 3 visits and looked adorable every time. The certificate and goody bag at the end of the puppy package just topped it off. such a lovely touch, very thoughtful. We also loved her little bandana after every visit . They all clearly love what they do, Patsy came home every time not just looking fabulous but very happy. She loves seeing them all and we will continue to go, I can highly recommend them. Thank you everyone at two left paws, we both think you are fabulous. Looking forward to seeing you all next Friday.
My puppy Mabel is shy and nervous so I was a little worried about leaving her for her first groom. She came bounding out very happy and always enjoys visiting the groomers. They took such amazing care of her and she looked so cute after her full groom. They did an amazing job and I highly recommend 2 Left Paws. Thanks girls!
The Puppy Package
The Puppy Package will desensitise your dog from the grooming process and includes play sessions so they don't always think they're coming for a groom. Your puppy will have a well maintained coat so you are able to choose the desired trim. The package must be used by the time your dog is 6 months old.
What's included in the Puppy Package?
3 visits consisting of bath, dry, brush, nail clipping ear cleaning and a scissor tidy of the feet, face, bottom and hygiene area. (booking required)
Free nail clips and fringe trims for your puppy up to 6 months old
Two 15-minute "play time" sessions in the salon.
An initial desensitisation session to the ultrasonic teeth cleaning (approx. 30 mins)
A Home-made bandana.
A luxury photo of your pet taken for you to keep.
Coat care sheet.
30 Minute brushing tutorial.
A goodie bag and certificate on their last visit.