Our Ethos
We offer a free 15 minute consultation so we can get to know you and your dog to ensure that his or her groom will be a positive experience. They will not only get a stylish hair cut but also lots of love and attention in the process. We believe that every dog is an individual and needs individual treatment. We specialise in nervous dogs, dogs that have become grooming-phobic, puppies, badly matted and rescue dogs.
Our Team
We are the human faces behind the Crowthorne salon that Kayla and Beanie set up in 2014. Kayla has groomed since 2009 and has worked with animals since she was 12 years old and it had always been a dream to have her own salon with her sister and best friend Beanie. We now have an amazing team helping us continue our brilliant reputation pampering your pets, we have fantastic staff members and some top and well known groomers caring for your four legged friends providing a brilliant service, who will always be at the salon ready to greet you and your dog. We have numerous assistant, trainee and senior stylists in the salon and hope to one day open up a grooming school to help others learn how to groom.
Kayla - Head Stylist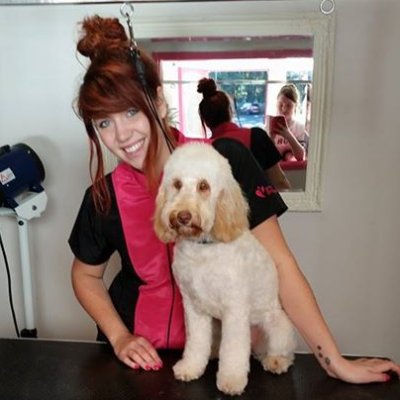 Kayla is a bubbly, loving individual who takes pride in every dog she grooms. She studied Animal Management, Behaviour and Welfare at Berkshire College of Agriculture achieving distinctions across the board and then went into studying dog grooming. She has been grooming in a busy salon since 2011 and now offers a service where every dog receives a grooming experience that is the best one they have ever had. She is a fully qualified groomer and deals with numerous breeds of show dogs. She has chosen to further her grooming knowledge by working towards her ICMG qualification, which is an additional qualification to become an International Master Groomer. In 2021 Kayla was thrilled to appear on
BBCs Pooch Perfect competition
to find the best professional dog groomer in the UK. In her spare time Kayla enjoys training & grooming her 3 poodles, walking, and competing in grooming competitions and shows.
Kayla says "I have worked with dogs and cats since I left college and love learning about handling, training and behaviour. I knew as a child that I wanted to work with animals and when I started grooming I realised it was definitely the job for me, which is ironic as I was actually named after Michaela Strachan, a well-known animal TV presenter."
Beanie - Head Stylist
Beanie is Kayla's sister and they are very close, they do everything together following their dreams - they came up with the salon name together as well as doing all the planning. Beanie has always shared Kayla's love for dogs and the salon which is why she was the perfect person to have as a part of the team. She has worked here since we opened in Oct 2014 and has a Level 3 Diploma in dog grooming. Her talent and bubbly personality does not go unnoticed in the salon, as all the dogs love going to her for after-groom cuddles. Beanie enjoys training dogs and learning new styles and trims that come into fashion, as well as introducing her daughter into the "doggy world". Beanie owns and competes with her Bichon. In her spare time Beanie enjoys spending time with her gorgeous two children and fund raising for her late daughter Skyla.
Our Salon
2 Left Paws is a small family run business which operates a salon in
Crowthorne
. Our salon offers high professional standards and staff who truly care about ensuring that your pet has the best possible time with us.
If you are a new client looking for any advice or information please don't hesitate to contact us or check out what our customers say about us on our Facebook page.
The Groomers Spotlight

At 2 Left Paws we are fully committed to offering the highest standards of service, and both
Kayla
and
Beanie
are members of
The Groomers Spotlight
which was formed to celebrate fully qualified groomers and the art of professional dog grooming. Pet grooming is a highly skilled profession and yet unregulated, this means that anyone can trade as a pet groomer without any formal qualifications, potentially putting your pet's welfare at serious risk. All Groomers Spotlight members have achieved The Level 3 City and Guilds Full Professional Diploma (not just the introductory part), The IPG Qualification or The OCN West Midlands qualification or Education Framework approved equivalent. All these qualifications cover health and safety, anatomy, breed standards and safe practice as well as full and in-depth practical assessments on live dogs. In summary, these qualifications have been chosen for their excellent content and the high standard of the practical assessments.
The aim of the Groomers Spotlight is to champion and promote Pet Groomers that have worked to achieve a 'Groomers Spotlight Standard' professional level of knowledge and all groomers featured are fully competent in all aspects of your pets' skin, coat and styling needs.
Our Crufts Successes
Kayla has a well-earned reputation for preparing and handling the challenging long-haired breed Briards at Crufts. In 2014, she prepared and handled Beaugency Martel to 3rd place in Good Citizen Dog, and prepared the Veteran Bitch winner, the 2nd place in Post Graduate bitch and the VHC dog in Limit Class. In 2015, she prepared the winning Briard in GCD and the winning Borzoi in Post Graduate Bitch. Here's what some of these winning dogs think of Kayla: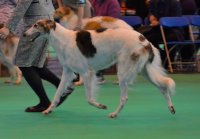 Getting a dog ready for Crufts is a delicate balancing act. The dog has to be clean and, obviously, well groomed, but not so recently washed that the coat is 'fly-away'. Some breeds demand special trimming - poodles for example (Kayla has a toy and standard which are clipped in show trim) whilst Briards and Borzois should have maximum coat length and texture. Terriers, by contrast, need to be 'hand stripped' - a long process which ensures that the coat is both wiry and shaped to emphasise that the dog meets the breed specification. Kayla has demonstrated an outstanding reputation with top rank show dogs but shows the same commitment with the humblest family pet - every dog that comes into 2 Left Paws leaves as a winner in Kayla's book!
Absolutely wonderful place run by a team of genuinely caring dog-lovers. Our little Olive was looked after so beautifully, she made lots of new friends, both human and canine, and she's currently sleeping peacefully, dreaming of the great adventure she had today. Cannot recommend this place highly enough. THANK YOU guys!
Dan Richardson
The staff at 2 Left Paws are very caring and expert groomers. My Labradoodle puppy has been extremely well looked after when groomed and also when in their Daycare. I was at first quite anxious about getting her groomed and leaving her there but I totally trust the staff to always do their best for her. A HUGE thank you to Kayla for her patience and advice and to the rest of the team who do such great work too!
Claire Pickard